Tuesday, November 11, 2008
"The Best Yet" (Greatest Hits) Released!
Hello switchfoot world.

I was listening to "The Best Yet" earlier today, realizing what a great, well-flowing selection of songs it was, a greatest hits collection ideal for the average uninitiated music fan. It is in stores now, if you wanna check it out or if you're looking for a Christmas gift idea. It is a CD that sums up extremely well the era of Switchfoot up until now, and really shows why this band has captured the hearts of millions - and I guess it's a nice way to close the Columbia chapter as they look forward to explore fresh directions in the future. Click here for a review I came across that waxes high praise. And here's the recent blurb from the band about this and other happenings (like new tour dates with 3 Doors Down):

Hola amigos!

We are very happy to announce that we have just released our 1st EVER greatest hits cd, titled "The Best Yet." This 18 song collection includes the newly released song "This Is Home", as well as such tracks as "Dare You To Move," Meant To Live," and "This Is Your Life." Click here for the track listing.

Today, we are also releasing the Deluxe Edition. This edition includes a DVD containing 14 music videos and band commentary. Includes video favorites like "Stars", "Dare you to Move", and "Meant To Live", along with rarities spanning our entire career.

The Best Yet Deluxe Edition will be included in this year's Holiday package which includes a new unreleased Switchfoot B-side, and much more! This special package is now available and in limited quantities. So place your order now, and have a Christmas party in November!

Purchase the Holiday Package HERE
Purchase "the best yet" (standard edition)
Purchase "the best yet" (deluxe edition)

Buy the standard version on iTunes here.

Also...
NEW DECEMBER TOUR DATES WITH 3 DOORS DOWN
Switchfoot will be joining 3 Doors Down on tour this December throughout the Southeast and Mid-Atlantic US. Please see tour dates here for more info.

SWITCHFOOT ON MYSPACE
Check out Switchfoot's "Memories of Home While Touring Playlist" on Myspace, click here!

JON FOREMAN SOLO DATE - THE STAND, BIRMINGHAM, UK - NOV 8, 2008
Jon will be heading to the UK for a special performance at a benefit concert for Hope For Justice. For more info, visit www.hopeforjustice.org.uk

This article mentions "This Is Your Life" being used in a political setting. Excerpt:

As McCain began his concession speech, the audio from the giant televisions had been turned off in favor of music. So while McCain, clearly emotional, thanked his supporters and admitted he'd lost, the rock band Switchfoot's "This Is Your Life" played.

"This is your life," go the lyrics. "Are you where you want to be?" About halfway through McCain's speech, the music went off and the party's standard-bearer could be heard.


Hmm. I'm certain the band didn't have anything to do with that. But such stereotyping happens, and Jason Warburg blogs in defense of the band: "Switchfoot confuses the pundits"


"Dare You To Move" is being used in a Suzuki commercial. I'm not sure how to feel about that or whether it's my American Dream, but I'll take the exposure it will give the song and remember that it is Columbia who owns the rights to the song. Watch the commercial here.


Here is The Refried Times with the scoop on 'Fiction Family', Jon Foreman's upcoming release in collaboration with Sean Watkins of Nickel Creek fame.


Psst... Darrell Thorp, who engineered Radiohead's "Hail to the Thief" and won a Grammy for it, has been caught working with the Switchfoot lads on their new album. Mm, I can smell the cooking.


posted by phil @ 3:53 PM
Friday, September 26, 2008
Happy birthday, LTB
(Acronyms are so handy). Hey friends, we've got another September "birthday"! Indeed, on this day 8 years ago, Learning To Breathe was released as Switchfoot's 3rd studio album.



The final album released on the label "Re:Think," and the final album as a 3-piece band, this was a whole different creature than the previous New Way To Be Human, and even showed some signs of sounds to come on The Beautiful Letdown. Of course, this was much more than just a transition album, even if it did have a theme of movement. With songs like "Learning To Breathe," "The Loser," the original version of "I Dare You To Move," and not to mention one of my personal all-time favorites, "Love Is The Movement," you have to admit it - this is a great disc. Here's what one of its creators had to say about it:

"'Learning to Breathe' felt like we were beginning to hit our stride as a band. Two albums and five years of touring had matured us as a band. This was the most prepared we had ever been before entering the studio. These were songs we'd been playing live as a band, trying out new ideas. There was a sense of confidence upon entering the studio that we'd never felt before at the beginning of a project. This was an enjoyable album, recorded in six weeks with long-time friend/producer Charlie Peacock and newcomer Jaquire King. This album felt like we were turning the corner -- we had finally demystified the recording process, and we were no longer intimidated by it." -Tim


This record also has the unique quality of having its album art designed by an actual band member (good on ya, Tim). The words on the inside of the lyric booklet really sum up LTB well:

"Welcome to the fallout: where the truth and the shadows have become blurred. This is the incompletion... and we are holding our breath. But look! The winds of redemption have come to within the confines of our frozen fists. "Behold, I make all things new." And in this newness there is hope for the hopeless, where the eternal lines of the heavens collide with our own humanity. In the divine comedy where up is down and down is up we lose ourselves to find ourselves. Love is the movement. This is the revolution."

This album opened my eyes to a lot of new ideas, and even though that was back in 2000, it continues to do so today. It's been a good 8 years, LTB. If any of you guys have favorite moments from this disc, feel free to share 'em.

Hats off to a stellar selection of songs. Happy birthday, Learning To Breathe!

P.S. If you don't own this one, do yourself a favor and order a copy HERE.


posted by gellie @ 12:15 PM
Saturday, September 20, 2008
Phoners. Review. Tracklisting.
The conducting of interviews over the telephone (read "cell phone") is a common occurrence during tours. For example, there are 3 right here.

Ex. 1: Tim spoke with HamptonRoads.com on Sept 11th, discussing his years of living in Virginia Beach, and re-dealing with some of the same old issues:

...lead singer, Jon Foreman, and bassist, brother Tim, lived in Virginia Beach in the 1980s.

Tim, 30, remembers it well. "We were just surf punks, so we would just spend all of our time in the North End."

The area has changed a lot since then, he said.

"I've been to town maybe once or twice a year since we've been touring for the last 12 years, so I've been able to watch it. It's really a fun, hip place these days."

They don't worry about labels, either. Do the Christian rockers make up a "Christian rock band"?

That label doesn't quite work for Foreman.

"I think it shrinks what, to me, is the most important aspect of who I am. I think my faith is bigger than a genre, and genres were invented to sell records."

Read it all HERE.

Ex. 2: Jon talked to RedOrbit.com before the Holmdel, NJ show:

Jon Foreman, who writes nearly all the band's songs, uses them to explore themes of soul-searching and socio-political consciousness.

"Everyone is on their own journey, and whenever you try and define people ... it puts them on display like [they are] in some sort of a zoo cage," he said. "[These songs] are basically signposts on the road of the journey that I'm on, where I'm learning the need to understand the world around me."

Keep reading HERE.

Ex. 3: Chad told AlternativeAddiction.com a few pieces of information about the new album, due out spring '09.

"It's some new territory for us musically," Butler told Alternative Addiction in a recent interview. "I think people are going to be surprised when they hear it, that it's Switchfoot. I'm thrilled about it, to finally have the capacity and the freedom to do it."

This is a great little interview for any of you who want to hear more about how the album might turn out. Chad goes on to mention maracas, timpani, pianos, etc. Read some of it HERE, and for more detail, scroll down and find the link to listen to the whole interview.


Also common for tours, people like to go to shows and review them. Jesusfreakhideout did that for the Sept 13th show in NJ.

...not only has their band grown in size over the years (with the addition of Jerome, and later with second guitarist, Drew), but their show has grown increasingly more dramatic. While still fun in many ways, front man Jon Foreman's stage presence has grown a bit more theatric in mood. When he speaks about issues - whether carefully brushing elbows with politic topics or spiritual issues - they're often cryptic for the sake of being poetic or poignant. Gone are the days of the college-age trio singing about Chem classes or company cars. I guess these changes stand out so much more when sandwiched between a free spirit like Randolph and the jovial down-to-earth blue collar personalities of Third Day. Regardless, love or hate the changes Switchfoot have made, they still put on a strong indie-flavored pop rock set.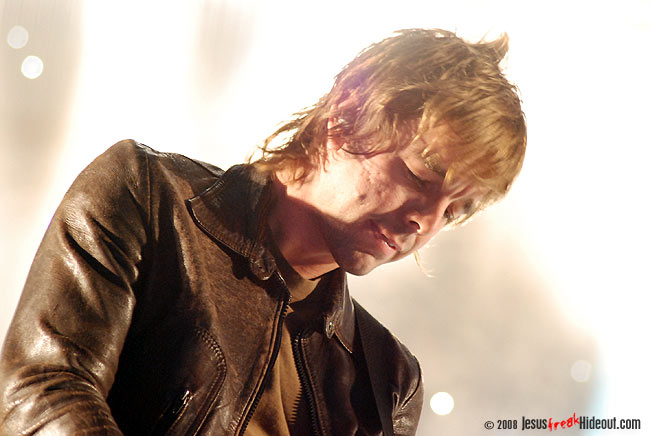 Read the rest of their review and see the rest of their pictures HERE.


Not as common during tours, people release tracklistings for upcoming projects. Common or not, Jon went ahead and disclosed the chosen songs for his solo compilation "Limbs and Branches" (due out in October) on his myspace:

Hola folks,
We've settled in on a list of tunes for limbs and branches- thanks to everyone who put their two cents in! I used the votes and my own thoughts on the songs to come up with the following list of tunes:

Your Love Is Strong
Behind Your Eyes
The Cure For Pain
Resurrect Me
Southbound Train
Broken From The Start new guy 1
House Of God, Forever
Instead Of A Show
A Mirror Is Harder To Hold
In My Arms
Learning How To Die
Over The River new guy 2

see you out there on the road...
peace!
jon


New guy 2 makes me think of grandmother's house...

Alright, that's all for today folks!

Labels: concert reviews., interviews., news, pictures.


posted by gellie @ 6:23 PM
Previous Posts
Archives
Links
Search
Subscribe